We have 26954 members
Who have access to
2759 Agents
1064 Football Clubs

Take our poll
FAQs
Q: My son is 14 years old, is this too young to have an agent?

A: A player cannot sign a contract with an agent until the year he reaches 16. A pre-contract agreement can be offered by agents for players who really stand out but until the player is 18, written consent of a parent of guardian is needed for the deal to be processed formally.
View All FAQs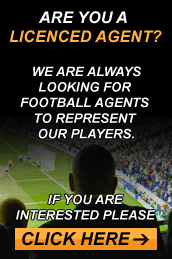 Who will be the first Premier League manager to get sacked this season?
| | |
| --- | --- |
| Arsčne Wenger | 56% |
| Steve Kean | 27% |
| Roberto Martínez | 7% |
| Neil Warnock | 5% |
| Mick McCarthy | 2% |
| Paul Lambert | 1% |
| Steve Bruce | 1% |
| Alan Pardew | 0 |
| Alex McLeish | 0 |
| Brendan Rodgers | 0 |
Previous Polls