We have 26954 members
Who have access to
2759 Agents
1064 Football Clubs

Take our poll
FAQs
Q: How do I become the best of my age group?

A: Playing football at any professional level requires hard work, if signing a professional contract is the young players aim, then the hard work will be worthwhile. Hard work includes working on different parts of your game game, such as fitness, technique, tactical awareness and other aspects of the game which aren?t your strongest in order to become a better player and stand out.
View All FAQs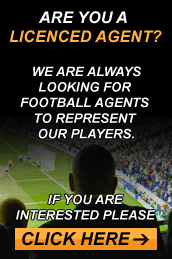 Contact My First Agent
Step 1
Please read through our frequently asked questions before contacting us.
Step 2
Please Sign-up here to create your CV Online (This must be complete before moving on to step 3)
Step 3
Use this form to send any comments or questions you have if you cannot find your answer in the FAQ's
*Required